Singapore: An Audi R8 was caught on fire at the roadside of Expressway with its bonnet opened.

In user-submitted footage of the fire, the user in the car can be seen driving on the right lane of the expressway.

On closer look, there was white smoke rising up from the left lane. As the user drives nearer to the smoke, a white Audi R8 was spotted to be on fire from the roof and the bottom of the car.

The front door of the car was closed and the bonnet was open. We cannot confirm if the driver is inside the car. However, from the scene with the bonnet open, we believe that the driver was not present in the car.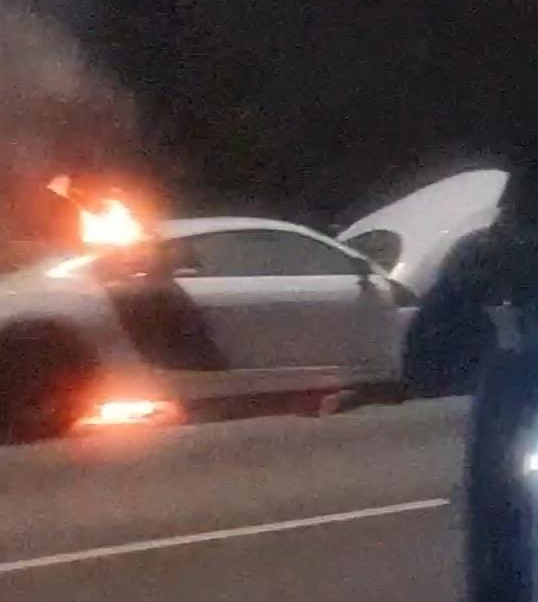 Unfortunately, the video footage cut off after driving past the on fire Audi R8.
On 09/17/2018, Audi issued a recall on certain 2017-2018 Audi R8 Spyder and R8 Coupe vehicles. According to Audi, "Transmission fluid may leak from the gearbox ventilation hose after certain high speed and maneuvering situations. If leaked transmission fluid contacts hot engine parts, it can increase the risk of a fire".
What Owners Should Do
Audi will notify owners, and dealers will replace the single gearbox ventilation hose with a double ventilation hose, free of charge. The recall began October 18, 2018. Owners may contact Audi customer service at 1-800-253-2834. Volkswagen's number for this recall is 34J1.
This is not the first time Audi R8 model was recalled. On 08/01/2011, Audi had also issued a recall on certain Audi R8 model Year 2011-2012 Audi R8 Spyder manufactured from May 18, 2010 – June 22, 2011. This time round, the recall was because of fuel system issue.
In the recall Audi stated that "The fuel supply line may contact and rub against the heat shield in the engine compartment. This could lead to a small fuel leak. A fuel leak in the presence of an ignition source could lead to a vehicle fire".
In cases of emergency, road user can call the following emergency hotlines
Emergency Hotlines:
survey solution